I'm not feeling particularly funny today. Don't get me wrong, I'm not sad or anything... I just can't think of any good jokes... ask the people who read my Twitter. Weak sauce. I compared Brett Favre to Barbra Streisand! Bet nobody else thought of that! So anyhoo...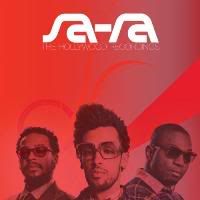 Sa-Ra Creative Partners
are a group of weirdos from Los Angeles who make the kind of out-there R&B/Hip-Hop
I've talked about before
, and quite frankly I wasn't very funny that day either. Hmmm. This rather fast-paced little number packs a lot of story into 2:25, and this
Rozzi Daime
girl on the vocals seems a little batshit crazy, too... so good times all around...
Sa-Ra Creative Partners - Tracy (ft. Rozzi Daime) (ysi)

Big fan of that buzzy synth-bass sound. I'll try to get more hilarious for tomorrow...