Here's some very out there shit for you...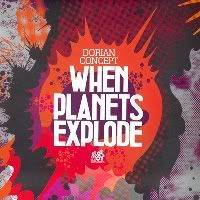 I don't think I've ever had a harder time trying to figure out the tag for a post than I have with this
Dorian Concept
record here. It's that fuckin' out there. So naturally I settled on IDM, because I am lazy and will use meaningless genre terms despite my rant yesterday. I'm a bundle of contradictions wrapped inside a paradox and shoved up a ferret's ass. Yes, this record is as weird as that last sentence. And kinda amazing. It's a young kid from Austria (Yep, I'm old enough to call 24-year-olds kids. Pass the Geritol!) who can program the shit out of some shit, let me tell ya. To wit...
Dorian Concept - Color Sexist (ysi)

BUT! It turns out the guy is also a borderline amazing keyboard player, too. Peep this live vid in a much more organic, jazzy vibe...
Sorry about the two minutes of dudes speaking German in the middle. Um, well I'm not sorry to Germans, obviously, but to everyone else...