So... last week something quite apocalyptic happened. The library file in my iTunes got
raped by drunken gremlins
fatally corrupted. What that means is it has to be rebuilt, manually. This is a process which will hopefully be finished by... well, I hope it's finished before 2012 comes and I'm fleeing for some big spaceship with John Cusack. The result of this is that you will see a certain alphabetical progression to the bands picked by the shuffle over the next few million posts or so. Starting with the numbers, no less...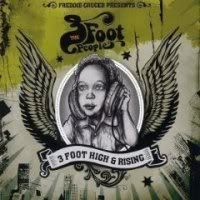 3 Foot People
is one of the many aliases of the man also know as Freddie Cruger or Red Astaire, a maker of many funky beats for feets. On this one, he gets his skank on with the help of Reggae singer
Desmond Foster
who must be pretty easy to spot in a crowd in Sweden. Just sayin'...
3 Foot People - Simply Fresh (ft. Desmond Foster (ysi)

I am kinda stoked for that movie though, especially the part where L.A. literally falls into the ocean...
I hope I'm out of town when that really happens... :P