I'm rather enjoying the amount of Hip-Hop classics that have been popping up in the shuffle lately...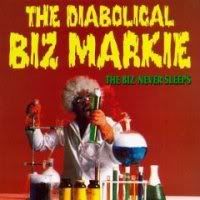 I would like to think that
Biz Markie
needs no introduction, but as I've been reminded more and more lately when my references draw nothing but quizzical stares from my younger co-workers (as if to say, "What are you talking about grandpa? Here, have some Metamucil while you wait for your death panel appointment")... music that came out when I was in college might as well be classified as Oldies now. But you know what? Biz Markie needs no introduction, so suck on that...
Biz Markie - I Hear Music (ysi)

BUT! I think one thing that even old fucks like myself might forget is that Biz started out being known as a beatboxer...
When you're old school, you don't even need to stand up... now get off my lawn!