It takes a certain chutzpah to name your band after a utensil. Well, maybe not... I just wanted to use the word "chutzpah". Yiddish is fun. Anyhoo...
Spoon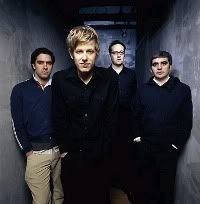 Who they are:
If I gotta give love to any Rock band on Sunday's list, it might as well be these Texans.
What they sound like:
And they get the nod for having a sound that you can't pin down. Sometimes they straight-ahead gee-tar rock, sometimes they bring in the keys and horn section and funk it up. That's called expanding the old musical palette, and we here at Tonegents approve of such shenanigans whole-heartedly...



What I think: Guess I kind of already told you that, didn't I? No one said this format was perfect. Anyhoo, here's the boys at the Hollywood Bowl, avec horn section...



Will I actually see any of Spoon? Highly unlikely since I imagine they'll be playing toward the end during while I'll be elsewhere catching one of the favorites. But if scheduling permits, why not?