Yep, this post has the ying and the yang, the flim and the flam. You can get with this, or you can hate on that...
Matt & Kim
are a boy/girl group that, to me, sound like if The Kills were transplanted to the '80s. Except that description sounds way better than they actually are. So... "meh" then...
Deerhunter
and
Mutemath
are a couple more beardy Indie Rock bands that I don't give a shit about, so I will put no effort into their description...
I think we're all supposed to like
Yo La Tengo
, but they're one of those bands that I've always heard of yet hardly ever actually heard. So they can't be all
that
great, can they? I would have at least one or two of their songs in my memory banks, wouldn't I? But nope...
Jonsi
is one of the elves from Sigur Ros, one of two bands I've seen at Coachella that were so awful live (after I was psyched to see them) that I formed an irrational yet eternal hatred for them... the other being The White Stripes. So despite the fact that the music seems okay and the visuals are supposed to be quite cool and elaborate, he can suck it hard...
And then
Club 75
is that new titty place that opened up on Sepulveda, right? Just kidding. Ha. Ha. Ha. Actually it's a big bunch of Ed Banger doods, namely Busy P, DJ Mehdi, (some dood from) Justice and (some dood from) Cassius. I imagine they might be bogarting the Sahara Tent for a while, so go git yer fidget on...
Also French, but less fidgety and recommended for your viewing pleasure in more ways than one is...
Charlotte Gainsbourg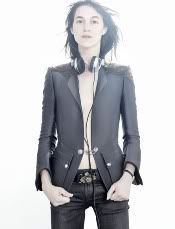 Who she is:
The daughter of famous French singer/perv Serge Gainsbourg and Jane Birkin, the underage gal he perved on. If you don't know what I'm talking about, feel free to Google it. You'll discover yet more good music.

What she sounds like:
When she's not bashing William Dafoe's junk into a bloody mess in awful Lars Von Trier films (talk about someone I have an eternal hatred for) she's making Pop records. Very French Pop. Bare bones one moment, all orchestral and shit the next. Ethereal vocals. Nice...
Charlotte Gainsbourg - Le Chat Du Cafe Des Artistes (ysi)

What I think:
I think there's a near 100% chance Beck shows up at some point in this set because A) Beck always shows up to cameo with someone and B) He produced this album. Most likely B, like so...
So you can get with this, 'cuz this is kinda phat...