Question of the day: Which Coachella act would you rather see, a legend a bit past his prime or a poser who's never going to have one...
Sly Stone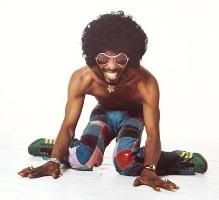 Who he is:
A legend of Funk, the likes of which there are few left today. Motherfucker played Woodstock, yo!
What he sounds like:
Look, I know some of you are quite a bit younger than me, but I'd be pretty shocked if you haven't heard Sly. Not as shocked as I am to hear that Ricky Martin came out of the closet, but pretty dang shocked nonetheless... anyhoo, here's a the set opener... AND YOU CAN TAKE THAT TO THE BANK, FRANK!
Sly & The Family Stone - I Want To Take You Higher (ysi)

What I think:
Would you turn down a chance to see Stevie Wonder or George Clinton or Prince? Fuck no, you wouldn't... regardless of age or how long it's been since they've had a huge hit. So you can't front on Sly. He's right there on Mount Funkmore with the all those guys. And hey, if he does something batshit crazy... you can say you were there! More likely though, it'll be something like this...
Which, hey, not the most amazing thing I've ever seen, but it's SLY FREAKING STONE! Seriously, if you skip out on this for some shit Indie Band who'll be back stocking the shelves at Target in two years... you're doing it wrong. SO SAY I!!!