I am so pissed that Syracuse lost to Butler last night that I could strangle a hobo... but as they say, the show must go on, so...
I'll have to start off the day by saying that the only
Gary Numan
song I know is "Cars", which puts me right in line with probably 99.7% of everyone in the world. So I have no idea what his show would entail. I'm thinking they should have a plane fly over the venue pulling a banner saying something like "Gary Numan will be playing "Cars" at exactly 5:20 PM in the Mojave Tent"... that way I can go see what I need to see and move on... perhaps to someone like...
Plastikman
aka Richie Hawtin, especially since he's working on what sounds like
a pretty nifty live show
and my better half and him go way back... but to be honest, his stuff is too minimal to hold my attention for long periods of time...
Julian Casablancas
was, of course, in The Strokes... so he can eat a bag of Zesty Nacho Cheese dicks...
And then we have
Infected Mushroom
, who I thought brought the hippie Trance, but it seems now they've melded it with awful growly singing and bad metal guitar. Actually, "awful" doesn't even begin to describe it... how about ass-blastingy shit-eriffic? Because I like to keep the criticism on a very adult, professional level, ya heard?
ANYHOO!
It's right here that shit starts to get real, real good and we find out exactly why Sunday is the day to go, starting with...
De La Soul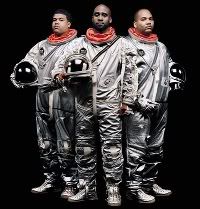 Who they are:
De La Soul / From the soul / Black medallions / No gold.
What they sound like:
If I need to tell you what De La Soul sounds like, you're probably too young to be reading this blog, what with all the naughty words I use. Now, what song to post? It's kind of hard when you have a consistently solid 20-year career to choose from (and how many Hip-Hop acts can say that?). So I always figure with a group this big it's time to dig deep in the crates for a rarity and I have found just the thing... recalling our recent Talvin Singh post, here are Asian Underground doods
Badmarsh + Shri
puttin' the Vindaloo to an oldie but goodie... I'm bettin' you haven't heard De La sound quite like this before...
De La Soul - Me, Myself & I (Badmarsh + Shri Remix) (ysi)

What I think:
I saw De La only once, at the Hollywood Bowl, and I'm gonna admit... it wasn't great. But that's just one show, and it's freakin' De La Soul, and I'm there...
Now to just figure out what to do with my weekend now that the NCAA Tournament is dead to me...