Hey all, sorry for the lack of posts these past couple weeks. I took a temporary job grooming Mo'Nique's leg hair during Oscar week. Harrowing. But paid well... Now, despite what you are about to read, I'm extremely excited for Sunday at Coachella. For one, it's the day I plan on going, so there's that... and for two, it's easily the strongest day of this year's festival... except maybe for the bottom line on the poster. To wit...
One EskimO
aren't terrible or anything, but the first thing that popped into my head was "Mazzy Star with a dude", which troubles me for some reason... partly because I was really hoping for some actual Eskimo music, which is a much under-appreciated genre...
Delphic
aren't bad either, but the first thing that popped into my head with them was "poor man's Friendly Fires", so... they're the kind of group to go see if no one you really like is playing and you probably won't even regret it... #backhandedcompliment
But nothing backhanded here...
DJ Paparazzi
is some fucking horrible fidget house bullshit. Music for Lindsay Lohan.
Kevin Devine
is a singer/songwriter dude that adds a little electronics into the mix, which makes him slightly more interesting than the average singer/songwriter dude... but just slightly...
And since I'm feeling pissy today, there is no love for
The Soft Pack
and their generic Indie Rock, either...
Then we have
Hadouken!
, who take their name from the game
Street Fighter
, which is kind of cool... and is the only thing cool about them. Imagine the Prodigy being raped by Limp Bizkit and you're in the ballpark. Wretched...
And
The Middle East
are quite frankly guilty of the same kind of false advertising as One EskimO, in that they are a Folk-y band from Australia... not an oil-rich region torn apart by constant bloody wars over whose invisible man in the sky can beat up the other people's invisible man in the sky. But then the good stuff starts with...
Hypnotic Brass Ensemble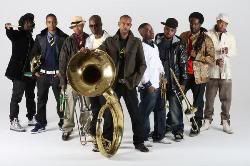 Who they are:
Well, I actually just posted on these guys
just a short time ago
, so go read that and grab that tune to boot...
What they sound like:
Funky-ass and all brass...
Hypnotic Brass Ensemble - Baji (ysi)

What I Think:
Can't wait to see these guys do their thing...
Don't know what was up with the one dude grabbing his junk the whole time, but whatevs... back to a full week next week, for realsies...