Ok, so... a lot happened in the last week, not much of which was blogging. Sorry 'bout that to the two people who care (number rounded up for simplicity). But I'm back and quite possibly not going to have any more long delays here. There's only a few more weeks left 'til the big show, so I better not, right? So, back to it.
Only one band to skip today...
Local Natives
are a relatively non-offensive Indie Rock group from Silverlake... actually scratch that. The fact that they're from Silverlake kinda makes them offensive by definition. My bad. But we do like...
Mayer Hawthorne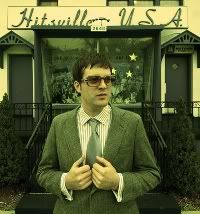 Who he is:
A white boy with some black in 'im.
What he sounds like:
Very, very much like Jamie Lidell minus the electronics... or Amy Winehouse minus the uterus and crack habit... here's a track from the best Sixties Soul album of 2009...
Mayer Hawthorne - The Ills (ysi)


What I think:
Looking forward to this one... he actually sounds very good live and I like the energy... but since he's a rapper in other groups, hyping up the crowd comes naturally, I'd imagine...
I hope he plays early in the day, right after Hypnotic Brass Ensemble... MAKE IT HAPPEN, TOLLETT, OR COME GIT YER COCK-PUNCHIN'!