Today the ol' iTunes on shuffle brought some old friends back to the blog for their first visit in quite some time...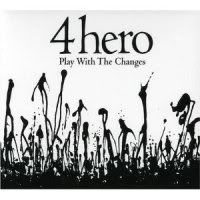 And those friends would be
4hero
, some cats who are pretty good at being awesome. Wish I was presenting you with a brand new record here, but nope. 'Cuz they ain't one. But hey, if you ain't have this one already, you ain't even ready for no new shit, yo! Man, I just got all Ebonics on yo ass there, didn't I? Anyhoo, this one features Miss
Jody Watley
, blast from the past for dat ass. Actually, despite the fact that she hasn't been a constant chart success for quite some time, if you check out what she's been up to... well, let's just say the girl's been doing quite well for herself. She's become quite a force in the world of style and musically had the sense to hook up with these guys, King Britt and some other very cool folks over the past few years. Jody Watley = hipper than ever...
4hero - Bed Of Roses (Ft. Jody Watley) (ysi)







BUT! Because I know you want it and you know you want it and I know you know I know you know you want it... um... what? Oh, right...



Tomorrow... something else!