I love droppin' some sample source knowledge and it's been a while. And today we have a sample from an album that Vice President Spiro T. Agnew himself tried to have pulled from the shelves... no really... no one can really figure that one out, from what I read, but whatevs. First, the sampl
er
...
It's an old-school Hip-Hop joint from Pharoah Monch and Prince Po, aka
Organized Konfusion
representing Queens. No, not the kind in the Pride parade, the borough. And
that
is what we call a Monday joke... anyhoo, this is one of those slept-on classics of the '90s, much like last weeks Freestyle Fellowship record...
Organized Konfusion - Black Sunday (ysi)

Great bit of old school boom bap there, but that sample sure sounds familiar... wasn't it also used by A Tribe Called Quest? You bet it was. And a bunch other people, too. It comes from one of the more bizarre albums you'll hear...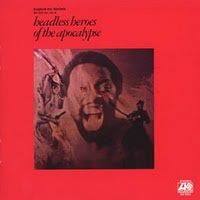 Eugene McDaniels
was no stranger to the Pop charts... the man wrote "Feel Like Makin' Love" for Roberta Flack and won a Grammy for it. But left to his own devices, dude knew how to get his freak on... and strangely enough, despite the hits his legacy wasn't really cemented until
Headless Heroes Of The Apocalypse
was discovered by the crate-diggers. At points this record really lives up to the WTF-ness of it's title... it's a political Jazz/Funk/Rock freak fest that really has to be heard to be appreciated... just dig it, and yes, he's talking about Mick Jagger...
Eugene McDaniels - Jagger The Dagger (ysi)

And that's not the only famous sample inside. Go ahead and pick it up to find some more. There will be a quiz...