The two most popular Google search terms for this blog are "Broken Beat" (unsurprisingly, since I rocks da good shit) and "Japanese Jazz"... the second one being kind of odd as I haven't posted a
ton
of such tunes. Must not be a lot of blogs out there posting the J-Jazz. THAT'S BECAUSE OTHER BLOGS SUCK! But you knew this...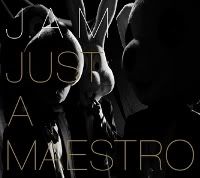 So today's J-Jazz heat comes courtesy of
J.A.M
, who are in fact the piano trio parts of the mighty Death Jazz maniacs Soil & Pimp Sessions. It is, by nature, not quite as crazy as S&P... there are no skronky horns or blood-curdling Japanese shouting... but it still cooks like very little Jazz made today. Get down...

And as if these guys weren't cool enough already, there's also a jawn on there with my main man Jose James. Check the vid for "Jazzy Joint", and by the sheer number of huge furry animal heads realize that these guys could never be anything
but
Japanese...
... because yes, when I think piano trio, I think dudes in giant chihuahua heads. Man, Japanese people are so entertaining...