So I'm feelin' pretty good today... went to the chiropractor and got my shits adjusted so I'm limbered up for some serious bloggin'... LET'S DO THIS THING!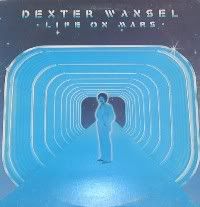 Got some heavy gear for ya today. This one here is an all-time secret weapon dance floor destroyer. Keyboardist
Dexter Wansel
is one of those guys who's behind-the-scenes contributions may outshine his work as a solo artist... the man was integral to the Philly Sound of the '60s and '70s... but this record here... I'd say he'd be a legend even if this was the only thing he'd done, it's that good. This one's so far ahead of it's time that a friend of mine used to mix it right into funky House sets, but he lied to me and told me it was some new shit that he wasn't gonna tell me about. DJs can be like that about their secret weapons. That is because DJs are douchebags. So anyhoo, years passed and I found this record having no idea it had THAT song on it. So suck it, Dewey Chan, I finally exposed your clever ruse. MUAHAHAHAHA...
Dexter Wansel - Life On Mars (ysi)

Oh, and speaking of douchebag DJs, yours truly will be spinning this Sunday night, June 20 at the Air Conditioned Lounge on Pico... be there...