It's my 100th post on Blogger... huzzah! For those of you who don't know, which is most of you, this blog started on Myspace and I've actually been doing it for a couple of years, but it didn't feel official 'til I made the move. Blogger kicks Myspace's ass!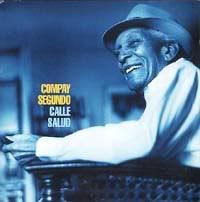 Compay Segundo
was, I believe, the second-oldest member of the Buena Vista Social Club, which put him at approximately 136 years old when that album was recorded. That's one of my favorite albums of all time, btw, a definite desert island selection. I can't remember if Compay was the one they found shining shoes on the street corner or the one they found living in a '53 Studebaker with his pet monkey... I'll have to watch the movie again, I guess. Anyhoo, this here record came out after it all blew up and they all started doing solo records, putting him at, I believe, 147 years old for this one. And you know what, he sounds good for his age...
Compay Segundo - Maria En La Playa

... what, you were expecting some kind of expert commentary or something? Silly you.