Wow, have I not yet posted anything from
Ubiquity Records
? 'Cuz that would be weird... I'd have to say off the top of my head that they are probably the best American record label in business, and almost in the category of the European big boys like Compost, Tru Thoughts, Brownswood and the like. So I guess that means it's about stinkin' time, eh?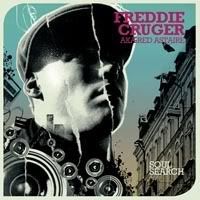 Actually this is a Tru Thoughts record, but since Ubiquity distributes them in the States, I say close enough! At least they have the good sense, knowhutimean? Anyhoo,
Freddie Cruger
, whose real name is Fred Lager, which I think is much cooler, so what's with the alias, doood... is a Swedish (ah, that explains it) hip-hop producer who has put out a bangin' album featuring all sorts of talented folks on the vocals. Yes, luckily for us we don't have to hear a white Swedish guy try to rap. This track features
Anthony David
, who I don't know squat about, but he sounds pretty good...
Freddie Cruger - I Wanna Make You Move (ft. Anthony David)

That's a summer jam if I ever heard one. Love the Latin touches, eh?
Mr. Lager or Cruger also uses the name Red Astaire on occasion to put out strictly instrumental tracks, which tend to be quite good, too. Here's one that doesn't even sound lame despite using lots of James Brown samples...
And to finish up, another band who are soon to be released on Ubiquity, a local L.A. group who I happened to catch live this weekend... and let me tell ya, these guys are insanely good. They are called
Orgone
. They will fuck you up with the funk and make you shake it 'til you break it. No mp3, but hit up their Myspace and be their friend, 'cuz they're nice folks to boot. When they're huge in a few months, you can say you knew 'em when...
Peace.