What do today's tunes have to do with baseball? Nothing!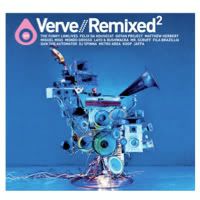 Ah, the ubiquitous
Verve Remixed
series... the series that begs the question: Are they not as "cool" because everyone including your Aunt Mabel has them, or does everyone including your Aunt Mabel have them because they're so cool? Discuss...
I'll wait...
Okay. Me, I vote that even your Aunt Mabel knows dopeness when she hears it. She's a pretty hip chick, ya know. Today's selection has legendary Latin Jazz vibist
Cal Tjader
remixed by legendary remixers
Fila Brazillia
. With that many legends, it's gotta be good, right?
Cal Tjader - Soul Sauce (Fila Brazillia Remix)

Yep, sure is. But just how much did the Fila boys mess with the original? Not much, really. As you can hear, they really just punched in a beat and some FX. And really, that's all they had to do, because the original is pretty darn funky in it's own right...
Cal Tjader - Soul Sauce (Original)

That's a Dizzy Gillespie cover, for those of you scoring at home. BTW, Isn't that one of the lamest baseball announcer cliches going? Like people are sitting are sitting at home watching a ball game with a damn pencil and a scoresheet. Strangely enough, though, it's still kinda cool to do at a game, but maybe I just think so because I'm a huge baseball dork. Don't talk no smack about baseball 'round here, or I shall become very cross with you!
And finally, just for fun, here's a Fila original, from their recently released
Retrospective
. It's a good purchase, considering all of their albums are for some reason only available on very pricey import...
And that completes the triple play. Baseball rules! As do baseball metaphors! As does this Minor League manager... and whatever you do, let this play until the 1:20 mark for one of the best moves ever...
Yer outta here!!!!