Because we hardly ever touch on Brazilian music around here...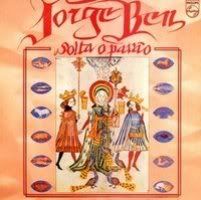 It's about time to give
Jorge Ben
some shine. He's one of the giants of Brazilian Pop (or Musica Popular Brasiliera, as it's called) and Tropicalia, and he's got a cool name, so there's two pluses right there. And um... that's all I got for ya really. It's Monday morning, folks... what do you want from me? :P
Jorge Ben - O Rei Chegou, Viva O Rei
So hopefully that will start your week off right. This album's out of print now, but you can get it if you know where to look (nudge nudge, wink wink)...
And how about I make up for my lack of insight with some cool YouTubes action...
Much better!