I think I'll use this space to once again pimp
the new "Hello Summer" mix
, because shameless self-promotion is how I roll...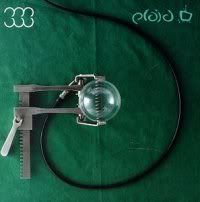 While
Plaid
certainly could fall under the heading of "pasty British knob-twiddlers #345 & 346", they are certainly not as anonymous as some of the dudes posted around here. I guess that's what happens when you've been recording music together for almost two decades. Plaid started as a side project of The Black Dog, who were big in the early "ambient techno" scene (or whatever you wanna call it), but grew to the status of much more than one-off when it turned out that their music was in fact quite good. All that said though, I can't be arsed to look up their names for you right now, but I'm pretty sure there's an Andy in there somewhere (there's always an Andy). This one falls on the mellow end of their spectrum... we're talkin' acoustic guitar and steel drums, yo!

And here's a very strange video for a less mellow Plaid tune...
These guys don't seem to be as appreciated as, say, Boards Of Canada, but they deserve to be. Why? 'Cause I said so, that's why...