Haven't had a House Music Friday 'round here in 3 weeks! WTF?!?! Let's fix that...
I've made mention in various posts of a bunch of once-great House music record labels that have bitten the dust, but Glasgow's
Soma Quality Recordings
ain't one of them. Nope, they've been going strong since 1991, so suck on that! And Mr. Lars Sandberg, aka
Funk D'Void
has been one of their big guns for a while now. He's a Scot, too, but he operates out of Barcelona, which I'm gonna go ahead and say is an excellent choice, because Barcelona is one of the sweetest cities I've ever been to, and I've been to at least... five. I don't get out much. But I'll take paella over haggis any day...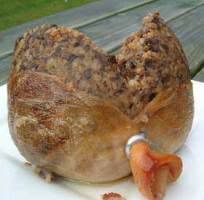 Yes, that looks delightful...ly puketastic!
Anyhoo, Funk D'Void tracks have always been a little hit or miss for me, but this deep groover here is a big hit... turn it up for this one...
Funk D'Void - Lovin' (Your Body Remix) (ysi)

How 'bout that breakdown, eh? Good stuff. Go up to the DJ this weekend and request this song. If he doesn't have it, tell that mixer monkey he needs to be reading Tonegents...
Have a great one!