Today I got a piece of Turtablism for you (I can't really classify this as a "song", ya know) from one of the greatest such albums EVAR!!!!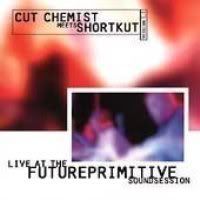 The Future Primitive Sound Sessions, like most good things, came from San Francisco, and their first CD release featured
Cut Chemist
of Jurassic 5 and Ozomatli fame and
Shorkut
of
Invisbl Skratch Piklz
. Now, I don't know much about Shortkut, but I can tell you that Mr. Chemist is a very cool guy. Met him once at a crazy Black Diamond afterhours in SF and had a nice chat. This, of course has nothing to do with anything, except for the fact that you know how I love to name-drop. Anyhoo, the crazy thing about this set is that, according to legend, these guys had never met before that night... so this is all purely off the top of their heads, just like the Jazz cats do it...
Cut Chemist & Shortkut - King Kumoniwanaleia (ysi)

Wowzers... because there's 70 minutes of that madness, and it's all just as bumpin' and just as fun. Actually that's another thing I always liked about Cut Chemist... at his shows, he remembers he's there to rock a party and make people dance and not just disappear up his own arse in a maelstrom of scratch-happy wankery. I can take a little bit of wankery, but not a maelstrom! To wit...
See what I mean there? Go see this guy. That is all.