Good Monday to you all. Hey, did you check out
the new "Hello Summer" mix
yet? Go ahead and grab that. I'll wait...
...
...
I think you will find it to be magically beat-licious. But what have you got for us today, Tone?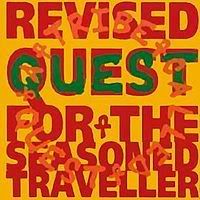 I got a rare joint from
A Tribe Called Quest
, is what I got! That's not bad, eh? Since they're in the Top 5 Hip-Hop groups of all time all... you wanna know who the others are? Tough! I like to keep an air of mystery about things around here. You don't get to know it all at once. It's the intrigue that keeps you coming back! Anyhoo, this comp has mixes off the first two classic albums, such as...
A Tribe Called Quest - Can I Kick It (Extended Boiler Room Mix) (ysi)

I guess they're getting back together, right? Seems like that one goes back and forth at least a few times a year, so we'll see. It wouldn't suck if they did, though... unless they added Fergie to the group or something. Then it would...