Sometimes, you just gotta smooth it out, yo...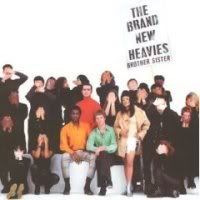 Ah, Acid Jazz... ya know, it was what it was. A bit cheesy, a bit wimpy, a bit forgettable... and now it certainly sounds a bit dated. But if you're gonna take one group and say they represented the best of this maligned genre, it would have to be
The Brand New Heavies
, wouldn't it? With singer
N'Dea Davenport
, they churned out the biggest hits of the era... and hey, they're still playing today, something I don't think many other Acid Jazz acts can say, and that's gotta mean somethin', right? Right? Yeah, I know... Sugar Ray are still playing today, too, and so are Poison and Counting Crows, so suck on your theory, Tone. Touche...
The Brand New Heavies - Mind Trips (ysi)

That was pleasant enough, no? Oh well, I promise I'll bring you something positively up to it's ass in street cred tomorrow...