It's only Monday, but I already have your weekend planned out for you... if you live in the UK, that is...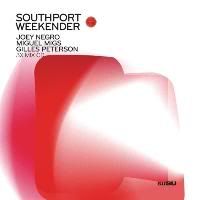 I don't usually do compilations here at Tonegents... I'd rather give the shine to individual artists... but the
Southport Weekender
series is just too good for me to not tell you about. The Weekender is a twice-a-year party held in the UK, home of every festival you wish you could go to, and is basically made for you and me... people who like all things funky. Anyhoo, in addition to the party, they put out these amazing multi-CD compos every now and then. The ridiculous line-up you see on this first edition isn't just a one-off, either. Number 8 just came out with King Britt & Ashley Beedle. There was one with Jazzanova & Mr. Scruff... you get the idea. Quality. I've picked a tune from Gilles' disc for you... shocking, I know...
Har-You Percussion Group - Welcome To The Party (ysi)

The latest Weekender takes place... you guessed it, this weekend...
peep the sick lineup here
.
Har-You
is a pretty interesting group to read about, btw... I suggest you do so. This track actually got a Jazzanova remix once... you should get that. I'm feeling bossy today apparently... deal with it. :P