Today I'm gonna go a little Tom Schnabel on you, only minus the Filipino pool boys... that would be really funny if anyone but me got it, but whatevs...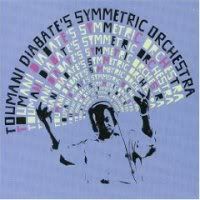 Toumani Diabate
from the West African country of Mali (as popularized by Damon Albarn :P ) is the world's top master of an instrument called the
kora
, which is a weird stringy/harpy contraption made out a big-ass gourd, cow skin and some strings. From what I gather, it's mostly used for traditional music, but my man Toumani has taken the kora outside the box, to use a phrase I hate, and combined it with Western sounds, blah blah blah... but despite that lackluster description, this song is about to melt your face. That will be the kora you hear at the beginning, then after that comes the awesome...
Toumani Diabate's Symmetric Orchestra - Mali Sadio (ysi)

What do the kids say? I'm feeeeelin' it, man. Plus there are some really good uptempo numbers on here as well... it's really just one of the best world music albums I've ever heard, and if you disagree with that, I will have Tom Schnabel fight you... Here, watch this and learn something about the man and the instrument far more enlightening than you'll get from me...