Short one today because I got lots to do and don't really know too much about this dude, anyhoo...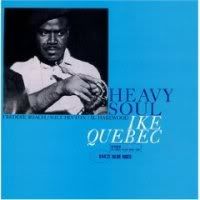 I think it's fair to say that saxamaphonist
Ike Quebec
is one of the less-famous members of the Blue Note roster, even though he has possibly the coolest name. This tune is the soundtrack to a rainy alley populated by down-trodden folks... in the nostalgic '40s movie sense where the bums are raffish and the hookers have hearts of gold... I did read that Ike had the requisite heavy drug habit, so you know this is quality, people...
Ike Quebec - Brother Can You Spare A Dime (ysi)

Oh and I'd be remiss without mentioning Syracuse University's
amazing win
in the NCAA Lacrosse final yesterday. What's lacrosse, you ask? Ah, shut up, you...