Now here's some shit an old band geek like me can really get behind...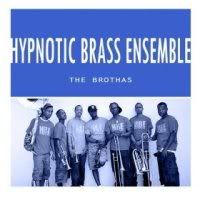 I would be talking about the
Hypnotic Brass Ensemble
, straight outta Chicago. And just like yesterday's act, the name tells you exactly what you need to know... except they coulda replaced "Hypnotic" with "Dayum Fonkay". But either way... you got 8 horns and a drummer. Oh, and that album title is no joke... they are all actual (half) brothers, sons of a Jazz musician (no, really?) whom I had never heard of and won't pretend to in order to seem cool. Get ready for a brass-gasm...
Hypnotic Brass Ensemble - Venus (ysi)

And here's an example of why both this band and NYC are very, very good things...
Yeah, if that doesn't float your boat... well then, I hope your boat sinks...