I'm going to start off today by welcoming
Feed Me Good Tunes
back to the blog-o-sphere. This was one of the first and best mp3 blogs I discovered when I was first discovering such things and their selection of tunes has always been nothing short of fantastic. They went away for a while but they're back like Zombie Jesus. Bookmark that shit... pronto. Then read on...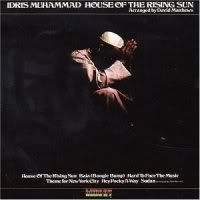 If you start getting into '70s Soul Jazz...
which you should
... you will find sprinkled into most albums of the era many, many cover versions of Pop songs. Which makes sense, because in those ancient days, before people had computers or horseless carriages or Jonas Brothers, people actually bought Jazz records. So it didn't hurt to throw in a couple Pop tunes along with the originals. And nowadays, well... there really aren't too many Pop songs worth covering. Don't really wanna hear a Jazz rendition of "Poker Face", oh... ever, no thank you. Anyhoo, um, what was my point? Oh! That done wrong, these covers often sounded like bad muzak, but done right... well, some cats just had the chops to really take a Pop tune to a whole different level (gah... I hate that phrase, but it's appropriate). Drummer and New Orleans institution
Idris Muhammad
was one of those cats. Here he takes a Classic Rock staple (one that has been covered by approximately 17,000 times, 16,997 of those awfully) back behind the woodshed a gives it a hot, sweaty funkin' like it's never had before.
This
is how you do a it, folks...
Idris Muhammad - House Of The Rising Sun (ysi)

Mr. Muhammad is still active (although getting close to hanging up his sticks), playing mostly these days with pianist and fellow badass legend Ahmad Jamal. Dig it...
See ya tomorrow with something that might just blow your mind a little bit...