Right about now is the time when, traditionally, I'd do an epic Blog-achella post going through the set times and giving you the minute-by-minute guide for whom to see this weekend, but quite frankly I can't be arsed this year. I've given you the ingredients, it's up to you to make the pie, kids...
Also, I've got two words for the new LCD Soundsystem record. Holy Shitgood. Wow. James Murphy is working his way toward the pantheon. Unfortunately, I can't give you a track from it, as it's not out for a month and that shit would get yanked down quicker than an altar boy's pants at the Vatican. Damn straight I went there. Just know it's out there, it's real and it's spectacular...
There are, however, some new releases that dropped whilst we were amidst the whole Blog-achella kerfuffle, some that I would be remiss
not
to share with you. So here's the first of those...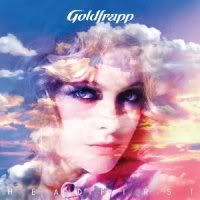 Remember when
Goldfrapp
put out their last album and it was all quiet and folky and whatnot?
Like this?
And you were all like, "Where's the dance-y bits?! Where's the diva-tude?! Where's the gay?!" Well, I'm here to tell you that all of those things are back like crazy on the new one.
Head First
blasts you right onto the '80s dancefloor of the future. (Shit, that's not a bad line. I'll have to write that down.) And yes, it's gay as all git-out. Feel the power, bitches!
(DMCA'd. Bitches.)
Lemme tell you right now... the rocket is located in my pants.
Anyhoo, the full Goldfrapp Revue is set to hit the Hollywood Bowl this summer, and that will be some goodness. Don't miss it. Unless, you know, you live really far from L.A. I mean, it'll be a good show but they're probably also playing somewhere closer to you on a different day and who wants to take unnecessary trips in this economy? Not me, I tells ya! That's for rich folk like Puff Daddy and the Shamwow guy...