You know, that whole Blog-achella thing really got in the way of my occasional blatant self-promotion... so now allow me to introduce you to
my Soundcloud page
. Original tunes by me (meh.) and a downloadable DJ mix you may have missed the first time around (woot.). Go check it out if you're on the Soundcloud... I'll mix it up a bit and post new things to download from time to time, exclusive-style. 'Cuz that's how I roll.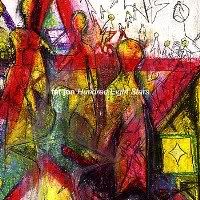 We've got a headnod-ical vibe today, courtesy of the prolific
Fat Jon
, the Ample Soul Physician, which is a nickname worth bonus points if ever there was one. Fat (that's what his friends call him) is a truly international dude... from Cincinnati, lives in Germany, big in Japan... is part of the group Five Deez which you also need to peep. And, um... I think he's fat, too. If you compared the sound to DJ Krush, I don't believe anyone would punch you in the face for it...

Um, is that all for today? Yep, I think that's all for today. Well, then...