Bringin' it home, y'all! Let's get right to it...
First off, I'm gonna invite the Coachella Message Board hate by saying that I never gave a shit about
Pavement
and do not to this day... although I'll certainly give them credit for being the prototype for a million generic Indie bands to follow. I'm possibly more befuddled by the unjustified and continuous knob-slobbing of Pavement than I am by... well, just about anything. For reals, that shit is befuddling as fuck. And I was HUGE into the College Rock when Pavement came up. HUGE! Pavement are weak sauce smothered in fail gravy. AND THOSE ARE BOTH CONDIMENTS!
Anyhoo, this finally brings us to the last post of Blog-achella X (except for the Set Times & Recommendations/Conflict-fest/Teeth-gnash-apalooza next week, stay tuned!), and your Sunday headliner is going to indeed be freaking EPIC! Allow me to explain...
Gorillaz
Who they are:
We all know who they are... but the even more exciting possibility is who will join them... Gorillaz gigs are a big deal, and they have been known to get everyone on the albums to join them for these things (check the vid below... Dennis Freakin' Hopper even showed up!). Just looking at the rest of the weekend's lineup shows us that De La Soul, Little Dragon & Hypnotic Brass Ensemble are already there. Bobby Womack has nothing better to do. Snoop, Mos Def, Del? Betcha a dollar. Lou Reed? Wouldn't rule it out. Oh, and Mick Jones & Paul Simenon of The Clash are in the band, playing together for the first time SINCE THEY WERE STILL IN THE FREAKING CLASH! See what I mean about epic?
What they sound like:
We all know what they sound like and the new record is a real grower. But it's also been blogged by every blog in the blog-o-sphere. Blogblogblog. So, like the last post, I reached back for a dope-ass remix you may not have, also by another Coachella act. Dig it...
Gorillaz - Dare (Soulwax Remix) (ysi)

What I think:
Probably won't suck. Probably will have ridiculously cool video component. Probably it will be EPIC! And here's a treat from the YouTubes... the entire Demon Days concert! WHATWHAT?
Yep, that's gonna be an amazing end to the weekend, but God help me... if this conflicts with Orbital, MY RAGE AND BLOODLUST WILL BE UNPARALLED! THE STREETS WILL RUN RED WITH THE BLOOD OF THE INFIDELS! For reals. So, time for the Sunday picks...
Top 5 For Sunday
1)
Orbital
1A) Gorillaz
1B)
Thom Yorke
2)
Talvin Singh
3)
De La Soul
4)
Phoenix
5)
Mayer Hawthorne
Underdog Pick of the Day
-
Hypnotic Brass Ensemble
Yes, I realize there are 7 in my Top 5. My blog, bitches. My blog. Of course, as we mentioned, all of this prognosticating will most likely be at least somewhat shot to shit when the Set Times come out... and I will see you then with the last post of Blog-achella X. I hope you've enjoyed this year's version, but if you haven't...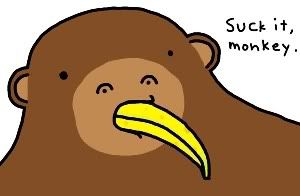 Fin.