Okay, so apparently no one other than myself thought my April Fools post was funny enough to... you know, comment that they thought it was funny. Not suprised, because hey... it wasn't awesome... but at the same time, fuck all y'all.
Just kidding! I love you all very deeply yet in no way inappropriately, I assure you. And speaking of love, I'm gonna give some blog-love to a new Interwebs musical destination called
365 Days of Music
. It is run by the mysterious and nefarious Marsupervisor, who is someone not to be trifled with in matters of musical knowledge. Plus maybe you prefer your mp3 bloggings with less f-bombs and dick jokes. I imagine it's possible. So bookmark, RSS, Twitter-fy and otherwise Web 2.0 your shit up to
365 Days of Music
today, people! Do it!
So anyhoo, French guys at Coachella...
Phoenix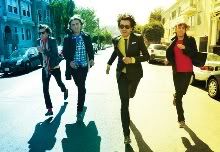 Who they are:
The band with that song from the car commercial. You know, the catchy one. Well, that's how most people in the U.S. at least know them, and I say there's nothing wrong with that. Cuz guess what, America. You're gonna like this band long after the cars have been recalled/stolen/abandoned on the highway with a dead hooker in the trunk....
What they sound like:
There's nothing terribly exotic about Phoenix. It's just real catchy, toe-tappin' guitar Pop done right... and even I can appreciate that when I hear it. Man cannot live on import Dubstep twelves alone! And today, I get to give you a real taste of what you're in for, as the boys have just released a short live set onto the Interweb Tubes... so here's that song from the car commmerical... LIVE!
Phoenix - 1901 (Live In Sydney) (ysi)

What I think:
I really hope the schedule works out so that I can see these guys, because I like their music...
See, that last sentence would have had way more pop with a dick joke in there. But maybe that's just me...