What if I told you that Acid House wasn't invented in Chicago or Manchester, but rather Bombay? What if I told you a dude in a turban was making acid tracks like 5 years before Phuture made "Acid Trax". You'd probably tell me I was out of my gourd, but get a load of this spicy tandoori...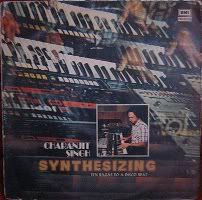 Charanjit Singh
was a Bollywood composer of not-exactly-much renown... but when them new-fangled synthamasizer things came out, he thought they were pretty cool so he got himself a couple. Namely a 303 and an 808. Then he thought it would be fun to record some Indian Classical music, the form known as the
raga
, on these new contraptions with this crazy new "disco" beat the kids were all going on about. He didn't really succeed as far as the Disco was concerned... you won't hear any string sections or horn stings here... but he did kind of, oh... accidentally invent Acid House and/or Techno while absolutely no one was noticing. To the point that upon this album's reissue, people thought it was some kind of joke being played on the public by that noted scallywag Aphex Twin or someone of that ilk. But nope. This is the real deal. 5 years before the first "Acid Track", this happened...
Charanjit Singh - Raga Kalavati (ysi)

By the way those synths were PLAYED LIVE. Talk about fancy fingers... keep your ladies away from Charanjit, fellas, if you know what I mean. He would give "The Shocker" some whole new twists... literally! Anyhoo, 1982 PEOPLE! THEY DIDN'T EVEN HAVE MIDI YET! Throw some bigger drums and filter plug-ins and you're at freakin' Moontribe! To be honest, though, it's not quite an album built for end-to-end listening, as it's kind of "variations on a theme", but still... wow. Light some Nag Champa, get you some Naan and Tikka Masala and take a weekend to digest it... and we'll see ya Monday...