You know what you don't get during Blog-achella when we're being all current and hip and whatnot? Them classic Funk jawns...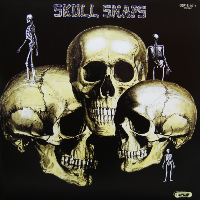 That picture you are looking at is one of the Holy Grails of crate-digging, the one and only record by East Coast funk group
Skull Snaps
... which by the way, awesome band name. This one goes for hundreds on original vinyl (if you can find it) but has been reissued recently by our good friends the Japanese. Why is this record such a big deal? Because it is awesome and it contains
one of the most-sampled breaks of all time
. This is one of those songs that you've never heard yet you've been listening to it your whole life. Dig it...
Skull Snaps - It's A New Day (ysi)

Told ya. And by the way, that whosampled.com site is quite educational. Bookmark it and study up. There will be a quiz tomorrow...