Of Swingers and Douchebags and how they were once one and the same...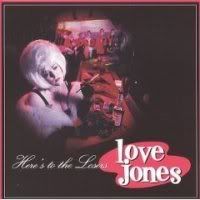 Ah,
Swingers
... great movie, no doubt about it. Genius, even! I'm gonna make Gretzky's head bleed! Yep, one of my all-time top ten... but there was a big negative to
Swingers
' success, that being that every single douchebag in Los Angeles (and that is A LOT of douchebags, people) decided that they would act just like the guys in the movie, go to the same places (The Dresden and The Derby), wear the retro suits, take up swing dancing, smoke cigars, drink martinis and act like huge twats. Now, except for the suits, the swing dancing and the twat part, I was kinda sorta one of 'em. Put in my time in those joints, lit up some stogies and the martini part goes without saying. So maybe I was partly douche-y. But I was young, so cut me some slack. Anyhoo, the Swing music and the Lounge music were everywhere, and most of it was really "meh"... but to me, the greatest act on the Swingers soundtrack were Louisville to L.A. transplants
Love Jones
and their debut album is the single greatest thing to come from that entire douchebag microcosm. Because rather than lamely aping the far superior Big Band music of the past (Big Bad Voodoo Daddy, I'm looking your way), they simply wrote perfect Pop songs with often-hilarious lyrics...

How can you not love that? Because you're a bunny-killing terrorist, that's how. It's really the only possibility...