At this point I'm just waiting for a report to surface that claims Sarah Palin killed a hobo... but I digress. Hey there! Welcome back! It's been three long days... let's get back to it... I'm sure you're just dying with anticipation...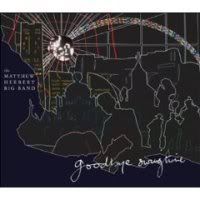 A few years ago, certified wacko/musical genius
Matthew Herbert
decided he was gonna make himself a Big Band record. And so he did. But of course, the Herbert method of making a such a record was to record a big band, take that stuff to the studio and cut-up the shit out of it, reconstructing it into something completely different and adding electronic skull-duggery. It still feels like jazz... just really weird-ass Jazz. You gettin' the idea this is a tricky record to explain? Listening is a much better idea...
The Matthew Herbert Big Band - Follow The Meaning (ysi)

Sounds kinda like if you took a swing orchestra, threw it into a wall smashing it to pieces, then just picked up the pieces and started pulling 'em out of a hat... or something. And then he did it live...
Yep. Wacko. Love it. New one by the Matthew Herbert Big Band coming out this fall... don't miss it.