Next stop: Nigeria. It's hot, but it's cool. Let me explain...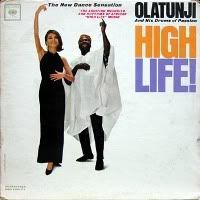 I'm going to have to put
Babatunde Olatunji
onto the Mongo Santamaria Memorial List of Dudes With Awesome Names. Because his name is awesome. His music is pretty cool, too. High Life might not be for everybody, but it's pretty fun. Lots of people other think so, too! In fact, Baba put out the first album of real African music on a major US label some 40+ years ago and it was a big hit. Not that I knew that before I researched today's post, but that's a pretty neat factoid. And the Grateful Dead were down, too... they had him serve as an opening act on many occasions and Mickey Hart put out some of his later albums. So, to sum up, cool dude, cool name, cool tunes... sounds cool to me...
Olatunji & His Drums Of Passion - Saturday Night Limbo (ysi)
That's the kind of song it would be fun to start out a Saturday night DJ set with... yep, that would be cool...