Sometimes I can't think of anything particularly good to say above the picture... this is one of these times...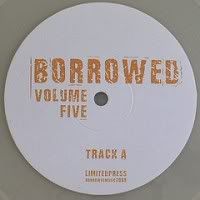 Once a year I am compelled to turn House Music Friday over to the mighty
Inland Knights
, and that time has come again. Here they do a collabo with the pair of brothers (as in, having the same mother) known as
Da Sunlounge
on some White Label bootleg style shits. You'll know why this release had to go this route when you hear what they sampled...
Inland Knights & Da Sunlounge - Track A (ysi)
Cop this one and the rest of the "Borrowed" Series at
Stompy.com
Yeah, that one probably wouldn't have slipped by without them owing someone about 50 kajillion dollars... so good for them to put it out on the down low and good for you because now you have it... 'til Monday, stay classy, Interwebs...