I came up with a new term recently... hobosexual. It's a person that likes getting it on with homeless people. Get it? I kill me! Anyhoo...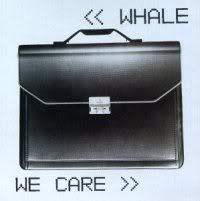 Has VH-1 done a "One-Hit Wonders of the '90s" yet? (I kinda love those shows despite the fact that I'm pretty sure they kill brain cells.) When they do, you know that
Whale
's "Hobo Humpin' Slobo Babe" will be on that shit. Thrown together as a joke, the song hit the charts and prompted the Swedish group to actually go record the full-length they never intended. And although said full-length (pictured above, fig. 1) and it's follow-up scored Whale exactly zero more hits, they were both surprisingly good listens... talented people who don't really give a shit making Pop songs because it's fun usually = something enjoyable. Plus it doesn't hurt to have that hit, which makes things happen like having Tricky produce your album. Yep, that's him you hear on this one, a track that exemplifies the whole Whale vibe. It's sloppy, it's silly, but dammit the hook will not leave your head...

And just for fun, here's a Youtubes for all the hobosexuals out there...
I don't think the cute singer with braces hurt these guys chances much, did it? Ooh, look!
Real Chance Of Love
is on!