You know what's fun? When the cable guy comes and accidentally unhooks your cable, net and home phone on noon on a Saturday... and you can't get it fixed until Monday. Yeah, that's a regular hoot...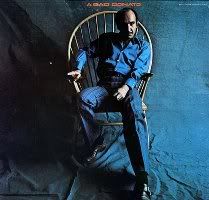 ... maybe I should send that tough guy up there to go deal with 'em. He looks like he could kick some ass... oorrrrrrr not. Anyhoo, he's a keyboard player, not a fighter, this
Joao Donato
cat. Legend has it that the record company told him to do "whatever the hell you want" on this one (shouldn't that be the rule on every record? I know, just sayin'...), so he went to town buying some new electronics, called up a bunch of equally rough and rugged characters and
Voila
! Brazilian Psych-Funk masterpiece. Seriously, this record is really fucking good...
Joao Donato - Lunar Tune (ysi)

Some of the other cuts are funkier but I like this one best, so suck on that. Or else I'll send Loungey McDenim up there over to your house after he bitch slaps Time Warner...