After the book I wrote yesterday, I'm gonna keep today's post simple...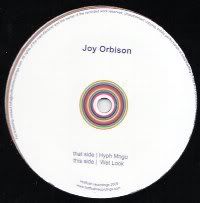 Now, I'm not much of one for acts with punny names (says the guy with the blog with the punny name... STFU, me!), but I'll let new UK producer
Joy Orbison
slide because he's put out a record that has the Dubstep world all a-tingle. Major, major heat on this one and it's easy to see why...

I anxiously await the forthcoming releases from Bomb Petty and Pelvis Costello...