House Music Friday is rockin' it '91 style today, yo...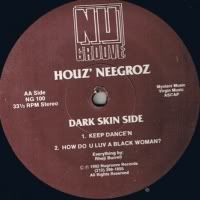 I know very little about this record, except that it's one of my all-time favorite old-school underground NYC jammies. I thought at one point that
Houz' Neegroz
was some kind of Masters At Work side project, but I was wrong. Kinda like I was wrong about the Eagles winning last week. Nah, not that wrong. I don't know what the hell I was thinking on that one...
Houz' Neegroz - How Do U Luv A Black Woman? (ysi)

"Like this!" has to be one of my favorite vocal sample cues evar. Major kudos to Jez from
Innersounds
for hooking me up with this MP3 as I have been looking for it for years, no joke. The blog-o-sphere brings us all together! Huzzah!