Sorry I missed you all yesterday... had a lot of television to make, then got to check out a new Hollywood hotspot, pre-opening, which was kind of fun because it's nice to check out a place before it's got that Paris Hilton taint on it. Seriously, you can't get that shit out of your clothes...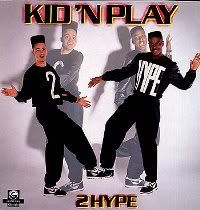 So how 'bout some
Kid 'N Play
? Don't pretend you don't love it. Don't tell me you haven't seen
House Party
like 50 times. And do NOT front on the Kid 'N Play dance or the High Top Fade. Because that would just make you seem petty. You don't want to seem petty, do you?
Kid 'N Play, bitchez!
Kid 'N Play - Gittin' Funky (ysi)

Tomorrow a new feature at Tonegents... as I post for you some goodies from the ol' inbox. Yep, people send me shit... and sometimes it doesn't even suck!