What would you do... if your daughter came home... with THIS MAN...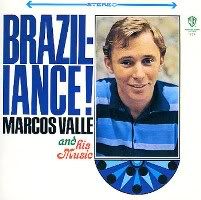 Marcos Valle
may not be as well-known as Antonio Jobim, Jorge Ben or the various assorted Gilbertos, but he is just as big a deal in the world of Brazilian music. I'm guessing it's the bad boy look he's rocking up there that turned folks off. People don't react so well to such raw, unbridled aggression, guy. You need to stop taking fashion tips from Marilyn Manson. (Quick note: My first choice for that joke was G.G. Allin, but I decided I'd like someone to get it) Anyhoo, here's an instrumental jam with some hot hot hot
bateria
...
(DMCA'd?!?! WTF?!?!)
And how about the Olympics being awarded to Rio? I heard that 100M Mugging and Team Kidnapping have been added as demonstration events... BOING!