So Barack Obama has been President for a year now and he must feel like the title character of that Chris Rock sitcom. Dude is really getting it from both ends these days! The far right hates him because he's
black
a Nazi Communist Baby-Killing Terrorist who Hates America and the far left hates him because he's a Pandering Centrist Weenie who Doesn't Like To Play Basketball With Girls. Damn. Luckily most of us sane people think he's doing a fucking awesome job despite the fact that he has to deal with the bunch of corrupt, self-serving idiots that comprise Congress, and that the people who complain about the basketball thing have obviously never watched the Chinese water torture of sporting that is a WNBA game. So keep up the good work, sir. We got your back...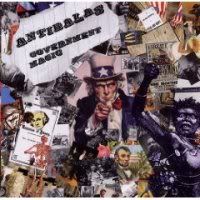 And hey, here's some good old-fashioned Bush-era government mistrust in the form of shuffling beats and blazing horn charts, courtesy of
Antibalas
, who are kind of the elder statesmen of the current crop of excellent American Afrobeat ensembles...
Antibalas - Government Magic (ysi)

Seriously, Liberals... before you start getting on my man Barry's case because he hasn't cured cancer, ended all war or won the World Series for the Cubs yet... just remember how shitty things were just one short year and a day ago... and shut the fuck up and let the man work. Toodles...