And now for yet another version of one of the true classics of White Boy (Plus Vaguely Ethnic Guy With Moustache) Soul...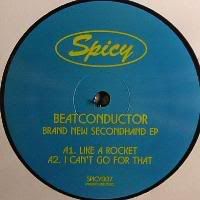 Personally I would have to rank Hall & Oates' "I Can't Go For That (No Can Do)" right up there will "Billie Jean" as a contender for Best Song of the Whole Freakin' '80s. And I imagine that if this was the kind of blog that was "read" by "people" who "commented", I bet that statement would certainly set off a fierce debate in the comments. But alas, I'm not here to fool myself. Anyhoo, the Swedish producer known as
Beatconductor
(among about 15 other aliases) has done made a nifty re-edit of the classic, adding some tougher drums and some rhodes and generally rearranging stuff... because that's what re-edits do, ya dig? Better than the original? Heresy! But it's certainly a bit more dancefloor ready...
Beatconductor - I Can't Go For That (ysi)

But hey, you have many choices for your "I Can't Go For That" needs... from De La's "Say No Go" to that sick peaktime House White label by I Have No Idea Who from a few years back to the goofy P.J Pooterhoots version to... you get the idea... Collect 'em all!