Because I like to keep it cutting edge, up-to-the-minute and "Ripped From The Headlines!"... here's another 50-year-old record...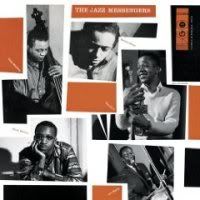 ... because I can't believe I've never given
Art Blakey
any love! I mean, he's only the most famous Jazz drummer ever and I, you know, claim to like Jazz and stuff. So finally here he is on an early one ('56 to be exact) with a no-name group... some schlubs called Byrd, Mobley and Silver.

But then again, the Jazz Messengers were known as a place where big-time playas got their start... here's a completely different group being awesome 3 years later...
Check the full list of Blakey proteges on the Wiki page as I can't be arsed to copy and paste it here. It's quite impressive...