I don't know how many of you like the boxing, but I gotta say that was some show Manny Pacquiao put on Saturday night. He basically gave Miguel Cotto the soon-to-be-patented "1000 Fist Facial"... check out the loser's grill after the fight...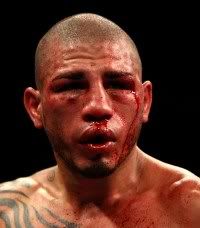 "So, where does it hurt?" "Yes."
But lucky for Cotto, Las Vegas is the home of some of the best plastic surgeons in the world and they were able to fix him up better than ever. Here's a picture of the new Miguel taken earlier this morning...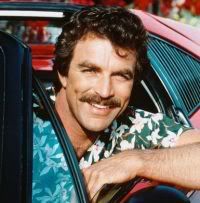 "Hey ladies... the line for moustache rides starts to the left!"
So I guess it all worked out pretty well for Cotto in the end... which is nice because he was a good fighter. Just not Saturday when he got his ass SMASHED...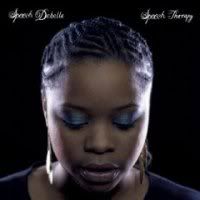 Of course, none of that has anything to do with today's tune, from young British rapper
Speech Debelle
. This Roots Manuva-produced record made the Mercury Prize shortlist... which is, I believe, a good thing. It's one of the most acoustic and introspective Rap albums you're likely to ever hear... mellow beats and thoughtful lyrics ABOUND...
Speech Debelle - Finish This Album (ysi)

I can't wait for Pacquiao/Mayweather. Literally cannot wait. I just tried waiting and it hurt. Let's DO THIS!