Hey look, it's post #750! Normally I like to do mixes for such milestones, but as you may remember, my iTunes is all 'asploded. So let's just proceed as normal...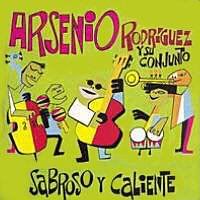 Like most white people, I went pretty nuts for Buena Vista Social Club when it came out. Seriously, I challenge you to find one white person who doesn't have that album. I kinda still hate Ry Cooder and his stupid kid and his stupid slide guitar though. Seriously, I want to punch him in the face every single time I hear the damn thing in that movie. But hey, I'll give him credit where it's due, and he certainly opened my eyes to Cuban music and here's some O.G. styles right here. I don't know too much about
Arsenio Rodriguez
that I didn't learn from Jose Rizo, so I will present you these two facts. He played the
tres
, which is a guitar, and he was blind from getting kicked in the head by a donkey. How's that for some bullshit?
Arsenio Rodriguez - Devuelveme La Ilusion (ysi)

STICK THAT SLIDE GUITAR WHERE THE SUN DON'T SHINE, RY COODER! (And by that I mean up your ass).