House Music Friday is here today to welcome a new record label into the circle of trust...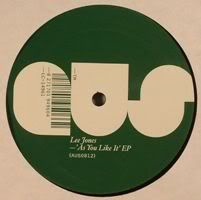 Being the crusty old codger that I am, I've lamented more than once in this space on how so many of the great Deep House labels of the '90s-early '00s have gone the way of the dinosaur. (Cries a single tear) So it's nice to find the new labels that are ready to take their place as official "marks of quality". And the latest to grab my attention is
Aus Music
from (no surprise) the UK. And yes, I do believe the pun is intended... after all their Myspace slogan is "Aus music all night long". Kudos on that one. Your taste comes courtesy of Mr.
Lee Jones
, whom you may have heard of in one of his many other guises such as My My and Hefner with New Zealand's own
Recloose
, a name to know, as the remixifier... Funky...
Lee Jones - As You Like It (Recloose Remix) (ysi)

Aus has also put out records by Tonegents-approved acts such as Joy Orbison and Ramadanman, so go get you some. And have a stellar weekend, y'all...